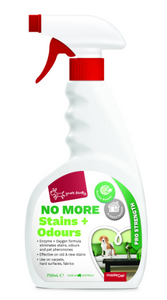 We all love our dog. We love their happy faces, waggy tails and slobbery licks. But do we love their stains? not so much!
Enter the No More Stain/Odour Spray- a powerhouse against unwanted stains. This stain remover is professional strength and fast-drying.The enzyme and oxygen based formula deeply penetrates to eliminate tough pet stains and odours, including urine, faeces and vomit.

Claim your carpets back with this clever spray from Yours Droolly!


Suitable for use on carpets, hard floors, upholstery, linens, clothing and pet bedding
Directions:
Before using, test surface to be treated for colour fastness by applying to a hidden area, wait 5 minutes then wipe with a cloth.
If colour is removed from the test area, do not use the formula on those surfaces.
Always use the formula at full strength.

Stain Removal:
Wipe up as much of stain as possible, thoroughly soak stain with the formula.
Wait 5 minutes, then wipe away stain with a cloth.
Keep pets away while treated area dries.
Tip: For tough stains, use a bristle brush.
If stain is not completely removed, re-soak area and allow the formula to work for 1 hour, then wipe with a cloth.

Odour Elimination:
Wipe up excess odour causing material, thoroughly soak area with the formula
Wait 5 minutes, then blot dry with a cloth.
Allow to dry completely before expecting complete odour removal.
While the treated area dry keep pets away from the area.
Tip: For tough odours in carpets (eg urine) apply sufficient liquid to reach all odour causing material.
Wait 1 hour, then blot dry.
Allow treated area to air dry completely before total odour removal.