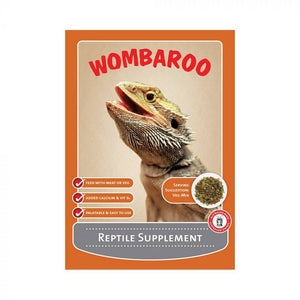 Wombaroo Reptile Supplement is a versatile high protein supplement for captive reptiles which can be mixed in with fruits and vegetables, insects, meat or whole prey animals. It can also be mixed with water to form soft pellets or a liquid slurry.

Wombaroo Reptile Supplement can be fed to all types of reptiles including turtles, skinks, dragons, geckoes, goannas and snakes.

Key Features
Palatable & Easy to Use mix with veg or meat to give a balanced diet
High in Protein for skin and muscle development.
Calcium and Vitamin D3 for healthy bone growth.