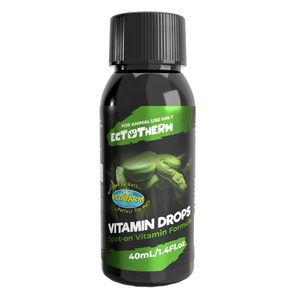 Vetafarm Ectotherm Vitamin Drops

Vitamin deficiencies in lizards and snakes can cause serious health problems. many reptiles hide signs of illness or deficiency, so closely monitoring your pet and their habits is important. Ectotherm Vitamin Drops have been designed by veterinarians to provide the essential vitamins required by reptiles.

By adding these drops to your pets diet, you can avoid common deficiencies that may otherwise go unnoticed and negatively impact your pets health and quality of life.
Key Features:

Provides a high quality range of essential vitamins
Simple spot-on formula that is effective and safe.
May assist in the prevention of common shedding issues and hyperkeratosis.