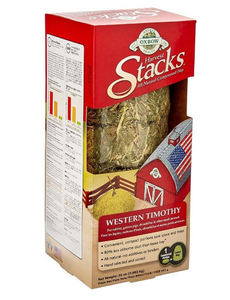 Oxbow Harvest Stacks for small herbivores (e.g. guinea pigs and rabbits) contain 100% all-natural, long-strand, hand-sorted Western Timothy hay packaged in convenient portions thanks to special compression technology.

Compact, easy-to-feed Harvest Stacks produce less airborne dust compared to loose hay and the smaller size makes them a great feeding option if you are travelling or have limited storage space.

Feed Harvest Stacks as a primary hay source or supplement with loose hay to encourage enrichment. Your small pet should eat hay every day.