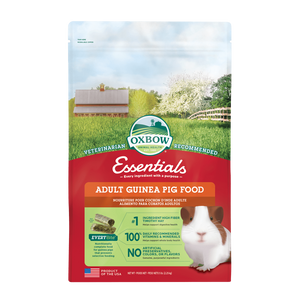 Oxbow Essentials Young Guinea Pig Food is formulated to meet your pet guinea pig's unique nutritional needs. It contains hand-selected hay for effective digestion, along with wholesome ingredients and vital nutrients to support daily health and performance.

Young Guinea Pig Food is made with alfalfa hay and is recommended for growing guinea pigs (under 6 months) and pregnant or nursing sows.

Although Oxbow Essentials provide an excellent complete feed for guinea pigs, unlimited access to fresh grass hay should also be provided.