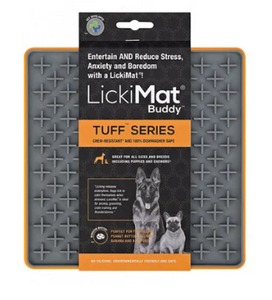 Lickimat Buddy Tuff
Designed to alleviate boredom, anxiety and promote licking at the same time, Lickimats are the perfect stress buster for both dogs and cats. Lickimats promote slow feeding and can be used as a fun alternative to Slow Feed bowls. These mats are ideal for serving pets with treats, spreads, yogurt, peanut butter, and many more eatables your pet craves for.

Made from food-grade, non-toxic TPR and recyclable polypropylene, Lickimat Buddy Tuff series is invented for playful chewer pets who like to chew anything and everything. Tuff Buddy is chew-resistant and ideal for teething puppies.

The unique textured patterns are designed to please the tongues of both cats and dogs and enhance taste through licking at the same time. Through slower feeding, Lickimat lowers gastric problems and boosts digestion.

Lickimat buddy tuff series is suitable for use in cats and dogs of all sizes and breeds. It is 100% dishwasher safe, freezer safe, and microwave friendly.

How it works?

Lickimat Buddy Tuff encourages licking. This action releases endorphins which calms your pet and reduces stress and anxiety. Moreover, licking produces saliva that protects your loved animal's gums and teeth. The saliva contains digestive enzymes like Amylase which aids in digestion.