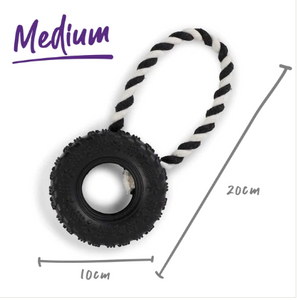 Made of extra heavy-duty, high-density rubber, this tyre has me tugging, chewing and winning at tug-O-war for days!

Made with 100% natural rubber and top-quality rope, it's easy on my gums.

It's also easy to clean for when I've been bit to slobbery with excitement.


TOP TIPS:

- Us doggo's love a game of tug-O-war or fetch. This tyre is great for both!

- You can stuff the inside rim with treats or paste to keep us entertained.