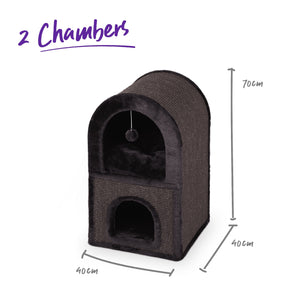 Every now and den I like a bit of solitude. And that's where Kazoo's 2 chamber den come in handy pawdy.
It has two super-snuggly plush dens where I can be alone with my thoughts, groom myself and catnap, sisal scratch walls and a hanging play ball on stretch rope.
Some cats love climbing playgrounds, but this snug little den suits my purrsonality to a tee. Hmmm. Speaking of tea, isn't it my dinner time, mum?