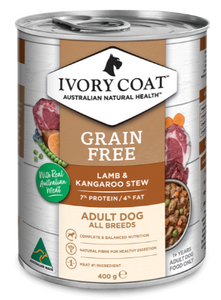 Ivory Coat Lamb and Kangaroo Stew Canned Dog Food

Ivory Coat Lamb and Kangaroo Stew is packed full of wholesome, natural ingredients to support the long term health of your adult dog.

This all-natural, grain free wet canned food is formulated using Australian lamb, chicken and kangaroo, making it an excellent source of highly digestible protein and energy. With chunks in a delicious gravy, Ivory Coat wet food is made in Australia from high quality, Australian-sourced ingredients. This formula contains antioxidants from superfoods such as blueberries, which helps to support a healthy immune system. With the addition of flaxseed oil, this diet is rich in omega fatty acids for skin and coat health and also contain a natural pre-biotic and natural fibre to support healthy digestion.