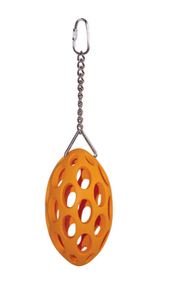 Foraging is a natural instinct for birds, and helps keep them occupied and mentally stimulated. Providing your bird with safe toys that encourage problem-solving and foraging behaviour helps to fight boredom. This foraging puzzle toy can be filled with food or treats and encourages your bird to problem-solve in order to get their tasty reward!

Fill with treats to give your bird a challenge
Tough 100% natural rubber football shape with bell inside hung on stainless steel chain
Encourages activity and helps prevent boredom
Available in randomly assorted colours.