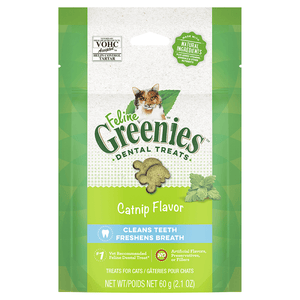 Recommended for: For adult cats from 1-6 years

Oral health issues are the most common health problems diagnosed in adult pets and are often a silent process that progresses without detection.

NUTRITIOUS INGREDIENTS
Natural formula with added vitamins, minerals, taurine, and chlorophyll for optimum feline health. FELINE GREENIES™ Dental Treats are 100% nutritionally complete and balanced for adult cats.
UNBEATABLE TASTE
If you or your cat isn't 100% satisfied, you'll receive your money back. Guaranteed.
NOTICEABLE DIFFERENCE
Cat dental care has never been easier, or more delicious. It's a difference you'll see.

Feline GREENIES™ Dental Treats are the #1 Vet Recommended dental treat*, approved by VOHC (Veterinary Oral Health Council) for tartar reduction.

The unique teeth-cleaning shape and crunchy texture of FELINE GREENIES™ Dental Treats help your cat maintain optimal dental care and overall good health.

*Among U.S. veterinarians who recommend dental treats for at-home oral care.