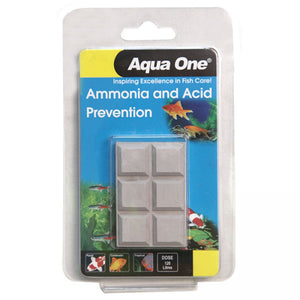 • Place Inside the Aquarium
• Suitable for Coldwater, Tropical, Pond
• Specially Formulated to Prevent Accumulation of Ammonia and Acids
• Stabilises pH in Water
• Should be Kept in the Aquarium on a Permanent Basis
• 1 Block will Dose 20 Litres of Aquarium Water


Maintain the health of your fish with Aqua One Ammonia and Acid Prevention Blocks that comes in 20g. To achieve clean water and a healthy home for your marine friends. Place AAA Plus Block in the aquarium on a permanent basis. Specially formulated to prevent accumulation of Ammonia and Acids within your aquarium while stabilising pH in water. 1 block will dose 20 litres of Aquarium Water. Your fish will love you for this one!