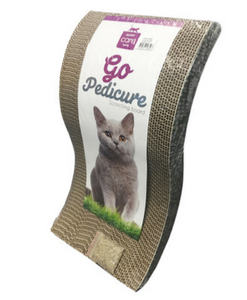 Enduring and Resilient: Constructed with superior-grade cardboard, this scratch board guarantees to endure the most intense scratching sessions, promising a long-lasting life span.
Versatile and Comfortable: This scratching board not only offers an enticing surface for your feline friend to scratch, but also serves as a comfy bed. Your cat can enjoy a snug nap on top of the board, making it a multifaceted addition to your household. If you're not completely satisfied, you can return this product within 30 days of receipt for a full store credit.
Sturdy and Safe: The scratching board's robust structure ensures it stays securely in place during your cat's scratching and stretching. No need to fret about it toppling over or shifting, offering a safe and steady scratching experience for your pet.