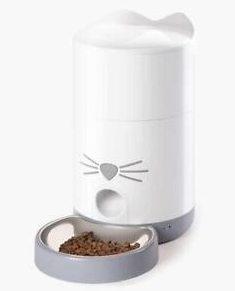 Catit Pixi Smart Feeder Cat Kitten Automatic Feeder
Catit Pixi Smart Feeder

Remote Controlled Cat Food Dispenser

On many occasions you may have heard about the anxiety of cats when eating, the typical binge eating of cats, or you may have heard that cats must eat many times a day in small quantities.

Nowadays we are all on "autopilot", in a hurry and we can't dedicate the time and attention we would like to our pets. That is the reason for this automatic feeder. It facilitates the correct feeding of our cats, without the need for us to invest time in it. So we can enjoy our cat when we get home, knowing that the furry one will be well fed.

Feeds your cat according to schedule
High-grade stainless steel feeding dish
Free mobile app, built-in Wi-Fi
±58 hrs back-up battery
Dimensions 19 x 19 x 34 cm (W x L x H)
FEATURES OF THE CATIT PIXI SMART FEEDER
You can feed your cat according to the schedule that is best for him. For example, 6 meals a day in portions of 18gr each.
It has a rear tank with a capacity of 1.2Kg, in which the feed is stored and kept in perfect conditions.
The size of food that can be uséd in this feeder is the standard size, which is between 7 or 9 mm in diameter.
It has an airtight ring that seals the tank.
Inside the top lid, a dehumidifying pad is placed to prevent mold and mildew, which is changed every 30 days.
Quiet motor with anti-clogging control, so that it detects if a feed pellet has become clogged and rotates in the opposite direction.
It has a nose-shaped button that allows to offer an extra portion, or more portions depending on the number of times it is pressed. It can be deactivated.
The base also features two LED status lights.
The stainless steel bowl is dishwasher safe to keep the feeder clean and hygienic.
It has battery backup, in case the power goes out, which would last approximately 58 hours.
Consumes 0.25W when idle and less than 1W when dispensing food.
Connects to the light via a USB adapter with plug.