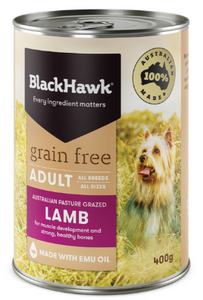 Black Hawk Grain Free Lamb Canned Holistic Dog Food

High quality, Australian made, grain free diet for adult dogs, gentle on the stomach and skin.

This high quality, grain free canned food is a great option for dogs who find a high protein, low fibre diet easier to digest. With added food grade emu oil, Black Hawk Grain Free Lamb contains omega fatty acids for healthy skin and a shiny, lustrous coat.

This formula can be used as a complete meal on its own or used as a complement to one of Black Hawks dry food options.