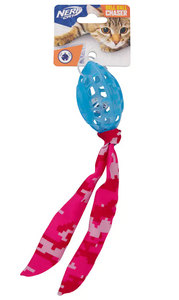 Keep your kitty entertained for hours with the Bell Ball Chaser from Nerf Cat. Crafted from durable plastic, this fun footy shaped ball has a jingling bell inside that chimes every time they bat it around, and a crinkle tail for extra interactivity, ensuring it holds their attention while they play!

Features:

Nerf Cat Bell Ball Chaser w/ Crinkle Tail Toy
Colour: Transparent Blue/Pink/Silver
Durable plastic cage
Fun football shape
Jingling bell inside
Crinkle tail for extra interactivity
Sure to hold their attention for hours of play
Materials: Polypropylene/Textile/Metal
Dimensions (approx. cm):
Ball: 9 x 7 (L x W)
Total: 25 x 7 (L x W)
WARNING - Choking hazard: Contains small parts. Supervision recommended during play. Remove from pet if damaged. Not suitable for children aged under 3-years.