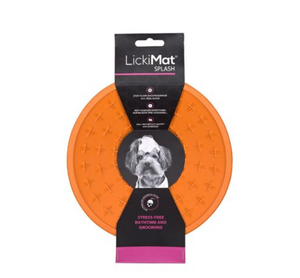 This innovative pet treat and food mat & bowl features a textured pattern and a bowl-like shape to make it easier for your dog to enjoy their favourite treats. Designed with a suction-cup base, the Lickimat Splash can stick to any flat, smooth surface like glass and tile; e.g., you can even have it on your car window while travelling with your pet or use it to lure your pet into the bath!

As your dog scrapes their tongue over the textured surface, they will experience a relaxing and cleansing sensation. Licking repetitively can help relax and soothe your pet's anxiety or simply to cure their boredom, especially when you're away from home. The textures will help scrape away food particles and bacteria from the tongue, which aid in improving overall dental and oral health.

Repetitive licking also boosts saliva production that leads to better digestion due to the enzymes found in saliva. You can freeze treats (e.g., homemade bone broth, softened dog biscuits, treat pastes) on the Lickimat Splash to give your dog a cool treat to enjoy in the heat.