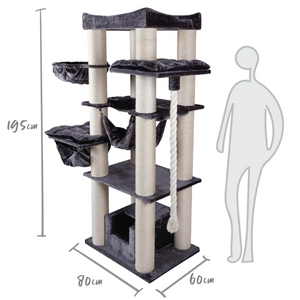 You've got to be kitten me. This has to be the most purrfect piece of cat furniture ever made. It's made with strong fabric and tough sisal, and is built tough to withstand even the most high-spirted cat games.

Features include scratch posts, hammock beds, basket beds, a private snug at the bottom and a hanging rope. Honestly, there's so much going on that I can play for hours without pawsing.

It's also great for when I have friends over. But without being a sourpuss, I prefur to keep it all to myself.

BEST BITS:

2 x plush hammocks
Hanging play rope
Rotating outer platforms
Snuggly plush basket bed
Sisal pillars for scratching
Removable cushions for easy cleaning
Sturdy frame built to last and handle tough play


DIMENSIONS MATERIALS

Width: 60cm
Depth: 80cm
Height: 195cm

Solid MDF inner structure
Furniture grade plush fabric
High quality, tough-wearing sisal
Please note: These dimensions are the base only, and do not include any overhanging parts (hammock, platform, etc), so please allow some extra room for these when measuring your space.

This is a quality item and is heavy - over 100kg. It comes in multiple boxes, flat packed. Easy to hand assemble with tools and instructions included.