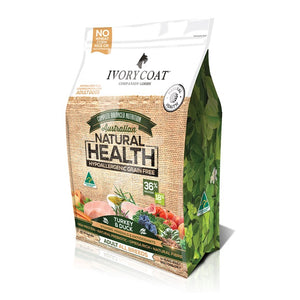 Australian Natural Health™ was developed by Ivory Coat Companion Goods with veterinarians and animal nutritionists to be the finest food for your companion's balanced nutrition and every day feeding.

Using only the highest quality Australian-sourced ingredients, this high-protein and hypoallergenic grain free dry food promotes healthy digestion and is packed full of wholesome ingredients including a high concentration of quality animal protein for lean muscle maintenance.

We use carefully selected vegetables and superfoods like kale and blueberries to boost antioxidant intake, together with flaxseeds and salmon oil rich in omega-3 & 6 to maintain skin and coat health. A natural pre-biotic is added to maintain healthy digestion and essential vitamins and minerals to provide your companion with complete daily nutrition.

All of our nutritious recipes contain NO wheat, corn, rice, soy, artificial colours, flavours or preservatives. We challenge you to compare our top 5 ingredients to that of your current food.

Your companion will thank you for the delicious recipes and benefits to their long term natural health provided by Australian Natural Health™.