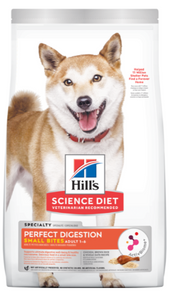 Hills Science Diet Adult Perfect Digestion Dry Dog Food Small Bites

Hills Science Diet Canine Adult Perfect Digestion is formulated to support the digestive and overall health of your dog. Featuring specially developed ActivBiome+ Technology, this unique diet is infused with a special blend of prebiotics, which helps support the gastrointestinal microbiome (the good bacteria in the gut!). A healthy gut microbiome is essential for good digestion, immunity and overall health.

Specifically formulated for small breeds with a tinier, easy-to-eat kibble size, this delicious food provides balanced nutrition for overall wellness, to help keep your small dog feeling their best! Formulated with an exclusive blend of prebiotics, whole grain oats, and pumpkin, this recipe is designed to nourish the good bacteria in the gut and help them thrive. A healthy population of gut microbes helps to promote optimal nutrient absorption, healthy digestion and bowel function, immunity, and overall health. The recipe is also formulated with optimal levels of clinically proven antioxidants, including vitamins C and E to support a healthy immune system, as well as high quality lean proteins to help support lean muscle and maintain ideal body condition.