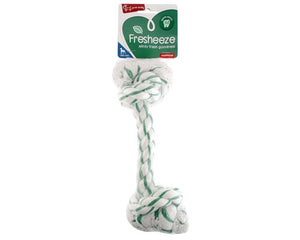 Fresheeze Mint Dog Dental Rope, Large

Size: Suitable for large dogs, 27cm L x 9cm W x 9cm H

This dog toy provides heaps of chewing and tugging fun whilst keeping your dog's breath fresh. What more could you ask for?

The durable ropeis awesome to chew and helps to improve your dog's dental hygiene. Rubbing teeth against the surface of the rope helps to scrape away plaque from teeth, which prevents the accumulation of hard tartar.
Infused with freshmint so it's tasty to chew and freshens breath.
Dental dog toy works like a toothbrush to keep teeth and gums healthy.
Encourages positive chewing behaviour.