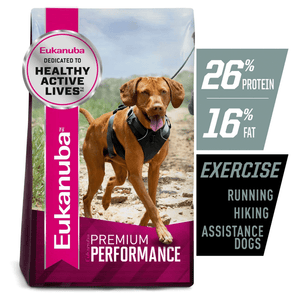 Eukanuba Premium Performance Exercise Adult Dry Dog Food

Based on decades of scientific research and development, Eukanuba dog food formulas deliver extraordinary nutrition that helps dogs of all ages look and feel their best.

Eukanuba Premium Performance Exercise is a complete and fully balanced, highly digestible dry diet especially formulated for more active dogs. With optimal levels of protein for sustained performance, glucosamine and chondroitin for joint support and antioxidants to protect against free radicals. Added omega fatty acids help support a healthy brain, skin and coat while beet pulp and probiotic fibres aid in good digestion. Eukanubas exclusive 3D Dentadefence technology reduces tartar buildup and the formation of dental disease.