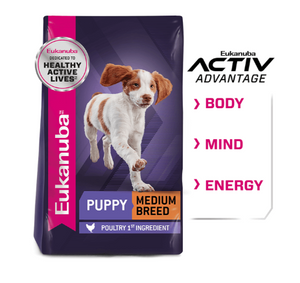 Eukanuba Puppy All Breed

Based on decades of scientific research and development, Eukanuba dog food formulas deliver extraordinary nutrition that helps dogs of all ages look at feel their best.

Eukanuba Puppy All Breed is a complete and fully balanced dry diet for medium breed puppies. This formula is easily digested and contains precisely balanced levels of protein, fat, carbohydrate, vitamins and minerals to promote healthy growth and development. Eukanuba Puppy All Breed contains optimal levels of omega fatty acids to support skin and coat health, as well as beet pulp and prebiotic fibres for healthy digestion.