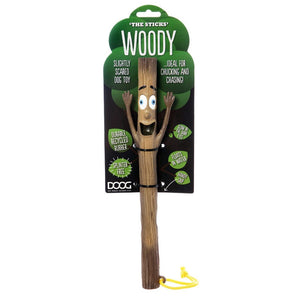 Woody Stick dog toy is the perfect partner to Miss Twiggy. With his alarmed and amusing expression Woody will withstand many happy hours of fetch. This dog stick toy will happily bob around in water waiting to be fetched by your dog. Made from recycled rubber he is not suitable to be chewed but is a safe, easy and great fun option for the owner of a dog that loves to fetch a stick.

Woody has glow in the dark eyes, a rope for flinging or hanging and a body that is easily gripped by both dog and owner.

Features:
- Made from recycled rubber
-Glow in the dark eyes
-Floats in water
-Splinter Free
-Built-in slobber resistant rope and handy grip
-Not only dog-friendly but eco-friendly too.

Please note this product is designed as a fetch toy NOT a chew toy. For supervised play only.